NGP Industrial Automation Solutions
Designed for different environments, our industrial automation solutions can make your industrial, power plant, or other manufacturing operations safer, more efficient, and more controlled. Get to know NG Project's proprietary solutions and start production!
SLC (Sea Logic Controller) – General controller
"One product, infinite industrial solution"
The NG Project presents its custom-designed Sea Logic Controller. The SLC is configurable on demand, the system is based on state-of-the-art PLC technology, and can be freely programmed to meet specific requirements. It can be controlled remotely or directly via a dedicated touchscreen display, or push buttons.
The SLC controller hardware is a generic B&R X20-based, freely programmable PLC-based 19″ rack-mounted design, developed in-house by NG Project, the "iPhone of the industry". It can be placed in any industrial or domestic environment and its functionality can be extended with applications downloadable from our webshop. The range of applications that can be loaded into the device is virtually endless, and our development team is ready to serve your specific needs.
With your purchase, you not only get a great control unit but also software that will suit your needs even better. Below are some examples of innovative applications we have developed.
Choose our SLC product if you are looking for the most modern and innovative solutions for your industrial needs!
Possible applications

BaRflow – Real-time measuring flow computer
Real-time flow measurement with quality correction for turbine, flange, and ultrasonic measuring instruments.
μTM – Compact station monitoring and controlling system
For control and regulation of industrial objects. Compact, easy to parameterize, interchangeable device.


SIDOR – Odorization Control System
SIDOR gas odorization control system for unique and redundant systems.
PBMI – Modbus-TCP / Profibus motor controller
Compact Profibus DP-based redundant intelligent motor controller.


QMC – Quality measurement controller
Quality Measurement Controller, suitable for collecting data from quality measurement instruments, synchronizing measurements, and managing sample streams.
NG ÁFSZ
A distributed management system with SCADA functions. A reliable system, proven in the gas industry, specifically designed to control and monitor international metering stations and compressor stations. The product is implemented according to the customer's requirements, based on specific control and optimization logic.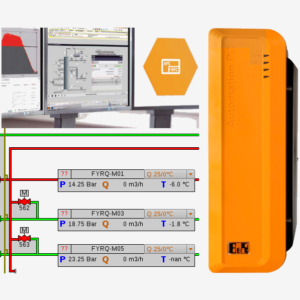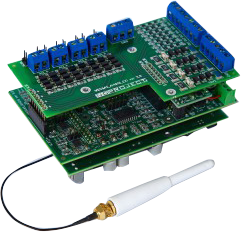 Weggas EEx (Wlan Ethernet Gps Gprs Analog-digital-io Sytem ) module
Data acquisition, analysis, and transmission device for explosion-proof environments, able to communicate over the telephone network and wirelessly using Modbus protocol, direct OPC connection. Thanks to its self-controlled operation with minimum power consumption, up to 2 years of autonomous operation without external power supply, thanks to our proprietary RB environment power supply! WLAN Bridge, Accespoint, or Router functions in RB spaces.
Explosion-proof (RB) devices
ExPS – Explosion Proof Power Supply is a device designed primarily to power the Weggas module for use in potentially explosive environments. The basic configuration of the system is a 140Ah, 3.6V DC (NG-BATT-140-036-B-N) battery pack. The capacity and voltage range can be scaled according to the type range.